Start Your Horsemanship Journey Today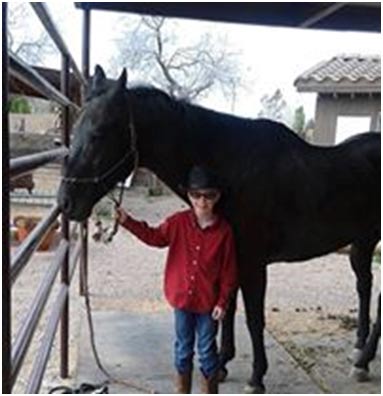 Our Program focuses on Teaching Responsibility, Patience, & Life Skills through a Relationship with Horses.
Participants in our Youth program interact with the many horses that we have at our facility on an on- going basis. Most of the horses at our facility are going through a personalized program to improve their lives, and ultimately find a home that will insure their happiness and well -being in the future. Working with and around these horses teaches the kids how we improve the lives of horses, and teaches them how helping these horses can give them value, purpose, and connections they won't find elsewhere. It's an invaluable experience in this day and age where most kids are connected to cell phones and social media.
This program provides kids with the opportunity to work in a natural outdoor setting to develop loyalty, trust, leadership, patience, responsibility and teamwork. They will engage fully in the barn management practices, equine health and general care, and the relationship with the horse. All three of these branches of the youth program will develop not only a rider, but a true horse-person that understands the horse, the ranch, and the work ethic skills it takes to be part of a community.
We strive to create a family within a barn for the animals and the people involved. Both our children and horses will develop their connections among each other, creating a society based on trust, camaraderie, and commonality. Children who would not have the opportunity to interact with each other in normal school or social settings will come together to help the barn run efficiently and create lasting relationships. Here no one is passed over or given up on, not student or horse. We work with both to find themselves and hopefully each other. As we have discovered, horses help us find our fullest potential.
Requirements:
1. Children ages 8 years old and up
2. Parents must sign Release of Liability Form
3. Parents must purchase approved helmet
4. Children required to adhere to dress code
5. Children required to read, or be read the barn code of ethics and sign
6. (See our Forms & Information page for Application, Code of Ethics, and Release Form)
Teaching Format:
1. Children required to spend 1 day per week at the ranch (3-6 hours depending on age}
2. A work and lesson plan is provided prior to each session
3. Child is required to complete a work and lesson log after each lesson with an emphasis on new things learned. In addition, homework will be assigned depending on the child
4. During Kids Camps, Child (Advanced Status), will be required to volunteer as a Camp Assistant on an as-needed basis.
Course Work and Activities:
1. General Horse Care
2. Horse Safety
3. Horse Leadership
4. Barn Culture and Routine with Horses
5. Horsemanship-Groundwork Exercises
6. Horsemanship-Learning How to Ride and Developing an Independent Seat
7. Barn Maintenance-Cleaning Stalls
8. Barn Maintenance-Cleaning Waters
9. Barn Maintenance-General Duties
10. Tack Maintenance-Cleaning and Care
11. Assisting Dave with Journey Member Lessons
12. Horsemanship-The Parallel to Becoming a Leader in Life
13. Horsemanship-The Parallel to Learning Respect and Discipline
14. Horsemanship-The Parallel to Learning Self Confidence and Goal Setting
Cost:
1. Jr. Youth Horsemanship Program, (ages 8-11) $250 per month (3 hours per week)
2. Youth Horsemanship Program, (ages 12 and up) $300 per month (6 hours per week)
Limited Availability:
Our Youth Program runs year round, and we only accept 10 participants on an on-going basis. Feel free to call or text Dave (602-405-1652) for availability.
Why Horsesensible and The Youth Horsemanship and Development Academy?
We offer your child a chance to work with horses in a supportive environment , where safety, and fun learning is emphasized. Our goal is to teach horsemanship and life skills that will instill core qualities in your child that will positively influence them for the rest of their lives. Horses are excellent life teachers, and we feel fortunate that we can make them available to enrich the lives of as many children as possible through our program.
Why Every Child Should Experience Horses:
1. They Teach Responsibility
2. They Teach Leadership
3. They Teach Respect and Discipline
4. They Teach Self Esteem and Confidence
5. They Instill Patience
6. They Teach Focus and Ambition
7. They Teach Awareness and the Value of Non-Material Things
8. They Teach the Concept of "Reaping the Benefits of Hard Work"
9. They Require You to Get Physical Exercise
10. They Keep You Out of Trouble.
For more information, or to enroll your child in the program please call or text Dave at 602-405-1652.
Someday Your Child Will Thank You For the Life Changing Experiences He or She Learned at Horsesensible's Horsemanship Academy