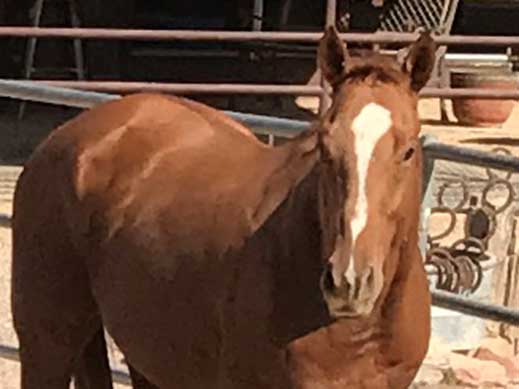 Bronco Billy is a 6 year old American Jockey Club Thoroughbred gelding.  About two years ago my good friend Ira Shulman brought Bronco over, wanting me to start him under saddle so he could send him to California as a Polo Pony prospect.  This young athletic horse had never been on the track.  As a result he was completely sound and had good clean legs.  Most thoroughbreds this athletic have been on the track since 2 year olds, and exhibit some kind of leg issues, and take more time to retrain after racing.  This luckily is not the case with Bronco. 
Shortly after Bronco's arrival, Ira passed away, and we ended up with a new horse in our stable.  Shortly thereafter we put Bronco in our school horse string where he has been used extensively teaching our Journey Members, Leadership, and Life Coaching students.  He is excellent on the groundwork.  Now that he is in full time training, we are progressing to in-the- saddle work of Level 1, and the Desensitizing checklist.   
With his athleticism, Bronco could go a lot of different ways.  At 16 hands he could go in the direction of an eventer—Hunter Jumper-Grand Prix.  And with time and experience he could also make an excellent Cowboy/Western Dressage Horse.  I also would not rule out the possibility of him being a barrel horse prospect due to his speed and athleticism.     
Bronco can be seen in our Journey Member Videos, as well as our On-line Training Site.  We are currently working on new videos of Bronco at his current level of training.  We will have those available soon.
Unfortunately after Ira's passing, we were unable to locate Bronco's registration papers, so he is being sold without papers.  Since he was never on the track he does not have a lip tattoo to trace his papers.  If you have an interest in Bronco please contact Dave at 602-405-1652.  We currently have Bronco priced at $2,500, which is subject to change with additional training. 
SOLD