Horsemanship Journey Program – Ethan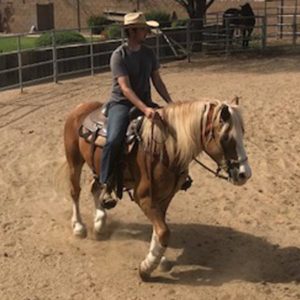 My time so far in Dave's Journey Program has truly been an eye opening experience. When I first came to Dave's program, I thought I had a little understanding of horses and horsemanship however, I soon learned I truly didn't know much. When I began my journey with Dave it opened by eyes to seeing horses differently. Through taking lesson with Dave I began to see horses as a partner and someone that is going to learn with me. I learned that horses and humans both learn differently and through many phases. Dave's program has not only taught me a lot about horses and their personalities, but has taught me a lot about myself. While taking lessons with Dave it has been amazing not only seeing myself improve but experiencing partnerships grown with these beautiful animals. Dave's program has helped me to love these animals even more and want to gain more knowledge of horsemanship.
---
Mission Accomplished – Richard
Dave's weekend clinic taught me how I have been doing things wrong with horses for over 50 years. I wish I had learned this stuff many years ago. Really enjoyed the weekend horsemanship clinic and the other people in the clinic.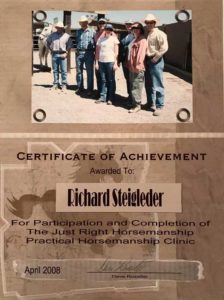 ---
Private Horsemanship Clinc – Pam and Rubin
Many thanks to Dave for a very memorable weekend. Dave helped us fix problems we have been having with our horses, and gave us the knowledge to improve our horsemanship. This was an experience we will never forget.