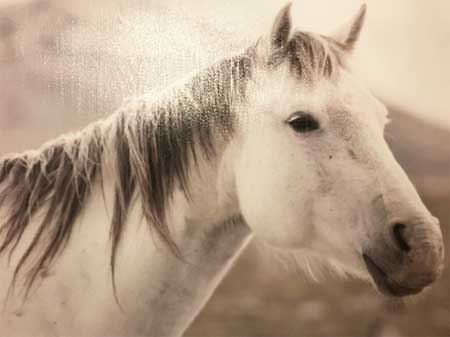 Stormy is a 6 year old Mustang mare.  About a year ago an Army Veteran who had lost his leg in Iraq, came to us asking for help.  He had acquired Stormy through a Mustang Prison Training Program and wanted us to start her so he could eventually use her for hunting trips.  Due to his health issues we ended up with her, promising to give her a good life here, and eventually find her a good home.
At almost 15 hands, this mare is tall with good conformation for a mustang.  She is a good minded mare that just like most mustangs, requires a lot of time to desensitize, and gain her trust.  Since arriving here, Stormy has been used as a school horse where she has been used extensively teaching our Journey Members, Leadership, and Life- Coaching students.  She is making great progress on the groundwork and desensitizing.  Now that she is in full time training, we are progressing to in-the- saddle work of Level 1, and continuing the desensitizing process.   
This mare with time and patience will make a great trail prospect.  Like most mustangs, she is tough, and can go all day long.  She has a good mind and with every day that passes, she works at trusting you more, and really enjoys having a job to do.  You can view some of her videos on our On-line training videos under the section "Reality Training".  We are working on new videos of her current level of training which we will make available soon.   
Sold