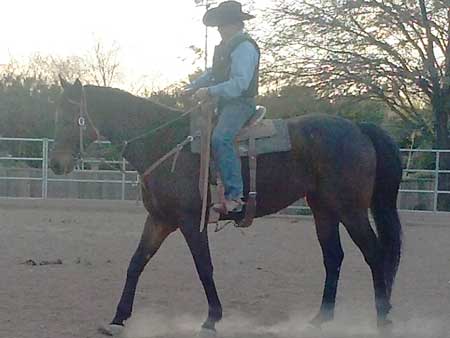 When you look at my qualifications below, you are not going to see any Life Coaching Certifications. What you will see is a journey in a very diverse career path that allowed me to interact with people in many different walks of life. When I combine these experiences with what I have learned through my Journey in Horsemanship (which started when I was around 5 years old), it inspired me to develop a unique program in Self Discovery to share with you.
My experience is that most people think happiness comes from having lots of money, a good job, big house, safe family and lots of other things. But you can have all of these external things and not be truly happy. What horses have taught me over the last 50 years, as well as my other life experiences, is that happiness is a direct result of finding a sense of inner peace in your own heart.
I look at it this way. Happiness is really an inside job. The metaphors I have learned from horses helped me find myself, and to connect with who I am at the deepest level. It's all about living a life where you are committed to the things you value most in life, and making choices in life that coincide with what is most important to you. I look back at the many people I worked with or came in contact with over the years that never figured out that happiness really is an inside job. It's really unfortunate because life is no dress rehearsal.
It's worked for me, so let me guide you on your personal Journey in Self Discovery! With the assistance of my equine partners !
Education:
B.S. Nutrition – Colorado State University
M.S Agricultural Economics – Colorado State University
CFP – College for Financial Planning
Corporate Education – 25 Year Banking Career-Many hours education including Lending, Wealth Management, Management, Sales, etc.
Work Experience:
Assistant Horse Trainer-Pres Houtchens Horse Trading and Sales-Lakewood Colorado
Head Horse Trainer-Peppy Blue Dot Ranch-Parker Colorado
Winter's Livestock Sale Barn-Livestock Handler-Fort Collins Colorado
CSU Large Animal Veterinary Hospital-Weekend Barn Foreman
CSU Experiment Station-Ethanol By-Products for Feeding in Colorado-Research Project Leader
Braxton Quarter Horses-Colt Starter-Fort Collins Colorado
Valley National Bank-Agribusiness Division-Loan Officer-Phoenix Arizona
Victorio Land and Cattle Company-Research Associate, Commodities Division-Phoenix Arizona
Ben Brooks and Associates-Ranch and Project Manager-Vernon Arizona
Valley National Bank-Agribusiness Division-Eastern Section Manager VP-Phoenix Arizona
Valley National Bank-US Banking Division-Banker VP-Phoenix Arizona
Bank One-Private Banking Division-Relationship Manager VP-Phoenix Arizona
Camden Financial Management-Partner-Scottsdale Arizona
J.P. Morgan Private Bank-Relationship Manager VP-Scottsdale Arizona
Farm Credit Services of Arizona-VP and Manager of Capital Markets Division-Phoenix Arizona
Spectrum Investment Banking-Owner-Chandler Arizona
BBVA Compass Private Bank-Wealth Manager SVP-Scottsdale Arizona
Horsesensible Enterprises-Owner-Gilbert Arizona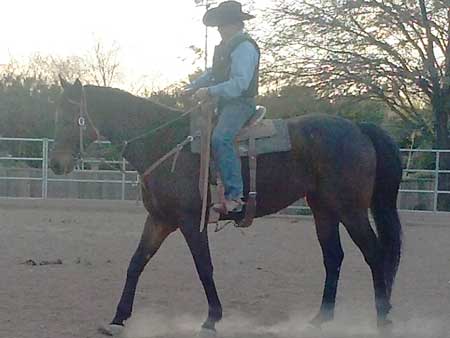 Athletic Accomplishments:
Junior Rodeo
Abraham Lincoln High School Rodeo Team
Colorado State University Rodeo Team
Arizona State Finalist-Racquetball
Competed and Completed Over 100 Marathons, Half Marathons, 10K's and Triathlons Including:
Bud Light Triathlon Series
Fountain Mountain Triathlons
Ironman Triathlon World Championship-Kona Hawaii
Competed and Completed Over 100 Cycling Tours and Events Including:
Triple ByPass Road Race-Vail Colorado
MS 300 Tour-Arizona
Heart of Arizona Tour-Arizona
Answer to the Challenge Tour-Arizona
Tour de Tucson-Arizona
Mining Country Road Race-Arizona
What is so intriguing about working with horses, is that they don't care who you are, what your resume says, how much money you have, or how many marathons you have done. All they care about is how safe you make them feel, and if they can trust you. Horses are a reflection of your true self which is why they are such great teachers. It's a lesson in humility that is your first step towards self discovery !!!!!